Ear Climber – Earring Recycled Silver
Our bestseller. Supercomertable earrings to wear day and night. 100% recycled sterling silver.
Ear climbers or ear crawlers are earrings that travels up the ear in a nice curve. The hammered finish makes lots of small facets wich beautifully reflect the light. Very comfortable earrings. Adjustable for a perfect fit. Lots of our customers sleep in these earrings and wear them day and night. Try that you too!
Sold in pairs.
20 mm long
Handmade in Sweden from 100% recycled sterling silver.
Supplied in a cardboard jewelry box. 100% recycled.
In stock. Ships within 1-3 buisnessdays.
Do you want the extra security of a plastic backstop? Get your free pair here
If you have small ears and earlobes we recommend our short ear climber.
Testimonials
"Hade verkligen inte några större förväntningar på örhängen mer än att dom skulle vara unika. Men det var en stor WOW-känsla när jag väl sätter dem på mig om man bortser det fina paketet som medföljer! Väl arbetat med de här små härliga verken. Dom kommer bli mina nya favoriter. - Tack! ⁠
⁠
Mvh Mirjam"⁠
⁠
⁠
Handgjort och unikt! Ear Climber, tillverkade i 100 procent återvunnet silver. Handla ditt par här: mnop.se/earclimber⁠
"Tack för de fina örhängena som jag fick förra veckan! Jag hade dem på mig igår på kickoff med jobbet och det var flera som tyckte de var jättefina. En av dem ville ha ett par egna, så jag beställer till henne."
"Hej! Fick mina helt underbara öronhängen idag, helt perfekta är dom. Tuffa men också så skira, lite trollska med den hamrade ytan. Formen följer helt perfekt mina öron. Är så glad i dem. Varma hälsningar Elin Nilsson"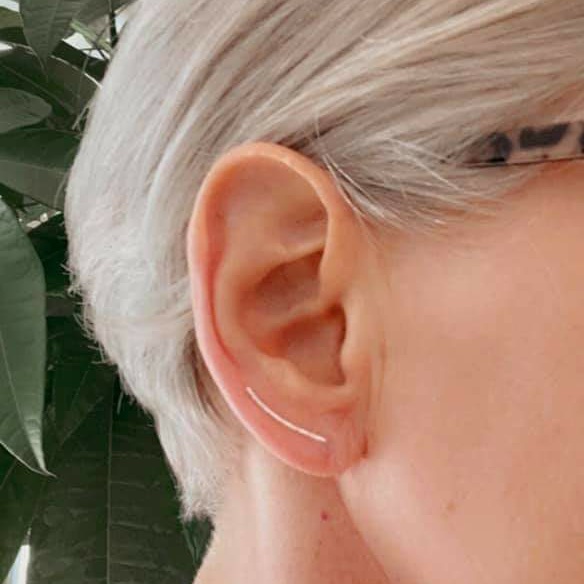 Fick dom helt fantastiska Ear Climbers idag! Jag blev kär!? /Kicki Ahlströms⁠
⁠